A Brief History of Brownie Mary and How She Helped Heal San Francisco's LGBTQIA+ Community
Brownie Mary Spread The Gospel of Compassionate Care Throughout San Francisco's LGBTQIA+ Community
By Lyneisha Watson
For many people, every breath they take is an act of rebellion because their existence is continuously invalidated and threatened by the many evils that haunt this dimension. When cases of Kaposi's sarcoma (KS) and Pneumocytstis Pneumonia (PCP) began showing up in gay men in the early 1980's, medical professionals in San Francisco unknowingly were preparing themselves to battle with one of modern society's greatest evils: the HIV/AIDS virus. 
During the 1970's, about a decade prior to the first outbreak of the virus, San Francisco's gay community began to flourish. Many gay men and women flocked to the city in search of community, acceptance, and freedom. In 1981, Paul Volberding, Chief of Oncology at San Francisco General Hospital, saw a 22-year-old patient who was suffering from KS,a nonlethal skin cancer, which was typically found in older men and people with suppressed immune systems. This was Volberding's first encounter with the HIV/AIDS virus, and this was also the beginning of a defining moment for America's LGBTQIA+ community.  In that same year, Mary Jane Rathbun's public-housing apartment was raided by the San Francisco Police Department, where they discovered more than 18 pounds of weed.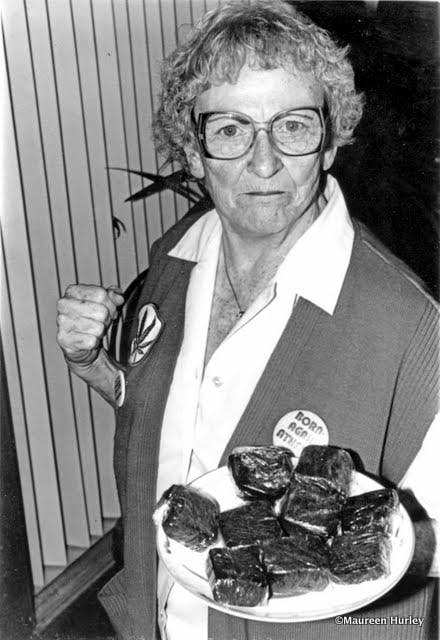 Photo Source: Maureen Hurley (1992)
Rathbun, better known as "Brownie Mary'', was a cannabis activist who devoted thousands of hours to taking care of "her kids" — individuals in the San Francisco LGBTQIA+ community who were battling with HIV/AIDS. Her "magically delicious" brownies helped reduce pain and nausea in her neighbors throughout the Castro District who were suffering from chronic illness. As her brownies grew in popularity, Brownie Mary was encouraged to share her treats with patients in Ward 86 at San Francisco General Hospital.
San Francisco was a major site for the epidemic because of its large number of gay residents and intravenous drug abusers who spread HIV through the exchange of blood and other bodily fluids. Because San Francisco was  branded as a city where people could be themselves without fear of persecution, serving as an epicenter for the epidemic, the city also became a space for understanding and healing for many LGBTQIA+ community members during this time. At this time, SFGH opened the world's first outpatient clinic, Ward 86, which was also the first inpatient AIDS ward. Ward 86 became a hub for much of the world's leading research on HIV/AIDS. "The purpose of the ward was not primarily to isolate patients,  but to provide a place for them to be cared for in comfort and with the support of their families, lovers, and friends," writes John M. Luce, M.D. Luce also writes that Brownie Mary was a volunteer at Ward 86 who bought patients home-made brownies laced with marijuana. 
Brownie Mary's popularity would eventually attract the attention of the San Francisco Police Department and make headline news across the nation. SFPD sentenced Brownie Mary to 500 hours of community service, which she completed in a matter of days. What the SFPD didn't know about Brownie Mary is that she was born to serve others. When she was 14-years old, she traveled with a group of people from Chicago, her hometown, to Wisconsin to support union rights for miners. She also advocated for women's abortion rights in the 1940's. Community service and activism was in Brownie Mary's blood, so the sentence the SFPD gave her was nothing. She spent all 500 hours volunteering at a gay thrift store, working with the Shanti Project, and the Martin de Porres Soup Kitchen. In 1986, Brownie Mary was awarded the "Volunteer of the Year '' by SFGH. 
Because of Brownie Mary's devotion to healing "her kids" and spreading the message about marijuana's healing capabilities, in 1991 she helped pass San Francisco's Proposition P, which established that physicians would not be prosecuted for prescribing medical marijuana. One year later, it would be reported that AIDS was the No.1 killer of men, ages 25 to 44, in the U.S. And in 1995, California would move forward and pass Prop 215 which legalized medical marijuana. Brownie Mary's work would eventually inspire medical researchers to study the impact of cannabinoids in HIV patients. This study, conducted by doctors Donald Abrams and Rick Donlin, would be the first study to unpack marijuana's impact on people with HIV and its impact on the immune system. In 1997, "Short-Term Effects of Cannabinoids in Patients with HIV-1 Infection" was published. The study uncovered that "marijuana did not hurt the immune system, did not increase viral load, did not negatively interact with the protease inhibitors, and actually did facilitate increased caloric intake as well as weight gain."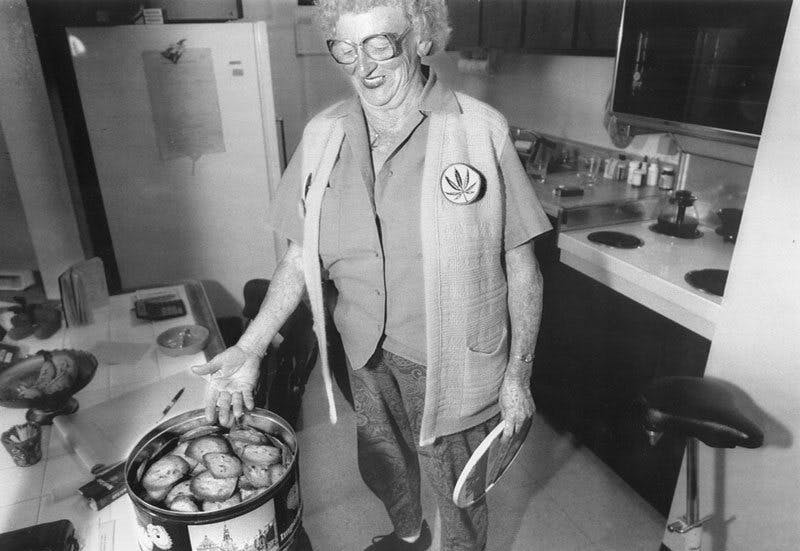 Photo Source: Scott Sommerdorf
"I know from smoking pot for over 30 years that this is a medicine that works," Rathbun told the *Associated Press* in a 1992 interview. "It works for the wasting syndrome. The kids have no appetite, but when they eat a brownie, they get out of bed and make themselves some food, And for chemotherapy, they eat half a brownie before a session, and when they get out they eat the other half. It eases the pain. That's what I'm here to do."
Brownie Mary unselfishly serviced the LGBTQIA+ community during the HIV/AIDS pandemic for more than 30 years. In 1999 at the age of 77, she passed away after suffering a heart attack. And here we are, 22 years after her passing, living in a world where cannabis could possibly be federally legal within the next 2 years, and members of the LGBTQIA+ community are taking up space and letting the world know that their existence is more than valid. When the HIV/AIDS epidemic began in 1981, those impacted did not know that our society's modern definition for "care" would be expanded and transformed in so many ways. At one point in time, society's understanding of HIV/AIDS was filled with ignorance and prejudice towards the LGBTQIA+ community. The villainization of the LGBTQIA+ community discouraged many individuals from being open about their identities. Having figures like Brownie Mary contribute to the healing and retelling of the LGBTQIA+ community's story is important because it illustrates the true importance of compassionate care.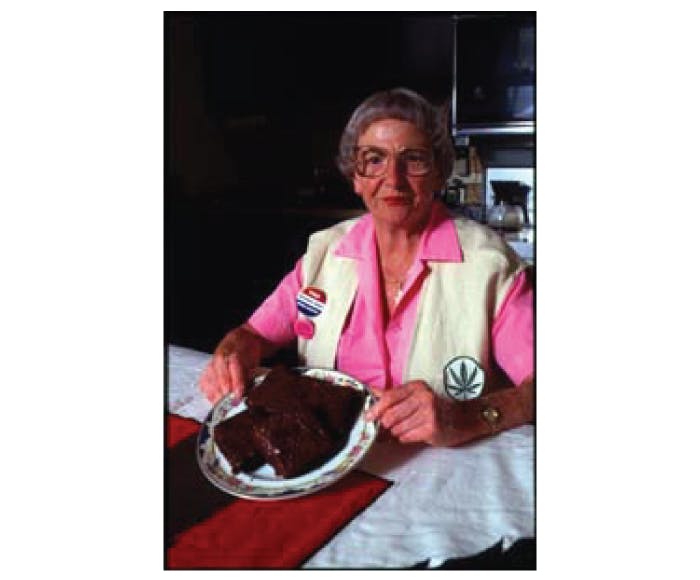 Photo Source: Brownie Mary Club Website
Recipe for Brownie Mary's "Magically Delicious" Brownies
1 ⅛ cup cannabutter
½ cup 70 percent dark chocolate, chopped
2 cups sugar
4 eggs
1 tsp vanilla
1 cup flour
½ cup unsweetened cocoa
½ tsp salt
Preheat the oven to 350°F.
In a small bowl, mix together the flour, cocoa powder, baking powder, and salt, and set aside.
Pour the THC Oil and the chopped chocolate into a double boiler over high heat. As the water boils in the lower pan, whisk the chocolate and oil until melted and smooth. Remove from heat, and whisk in the corn syrup, brown sugar, and applesauce. Stir in the egg whites and vanilla. Beat the mixture vigorously until smooth, then stir in the flour mixture until well incorporated.
Grease a 9-by-13-inch baking pan. Pour the batter into the pan. Bake for 18 to 23 minutes, or until the center of the top is almost firm to the touch. Let cool. Enjoy!
(Source: The Official High Times Cannabis Cookbook)